Sometimes when people hear of old things or old places, they don't connect with them and fail to capture the excitement or experience of the adventure on offer. Old is often labeled as boring and dangerous. But I totally fell in love with this old park during my first visit. My love and fascination grow with each visit as I discover and uncover new, an old, characters and characteristics of this relevant relic. Taichung Park, the oldest park in Taichung, was built when Taiwan was under Japanese rule and is also called "Chung shan Park". Built in 1903 during the Japanese era, the park holds many secrets, treasures and stories, and finally received the recognition it deserves when the Taichung city government listed it as a historical site in 1999.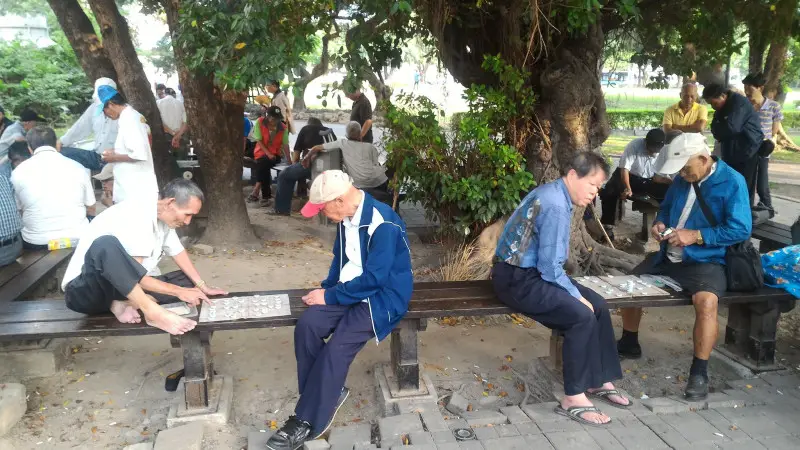 You wouldn't believe the variety of activities available for all to enjoy. After jumping into a kayak, and struggling to figure out how oars work, we rowed around the lake, under bridges, and through bushes, I didn't feel like I was in Taiwan. The Kayak can fit 4 people snuggly, and costs only 200NT, there is no time limit. Among many special events, there is an annual Lantern Festival celebration that brings in huge and festive crowds. The playground for kids, is also popular with grandparents. Exercise areas are an important aspect of the park and used by everyone. 'Love' the clay tennis courts, and they're well-maintained. Old school gamers gather regularly for Chinese chess competitions, complete with audiences and trash talking uncles and grandpas. These are but a few of the tantalizing options available. While walking along the path, we encountered many music makers and dilettantes. An A cappella group practicing enthusiastically under the gazebo, a drum troupe pounding away under an enormous banyan tree, and a solo saxophonist tuning up his equipment for an eager crowd. And we also met some lovely animals just chilling in the park.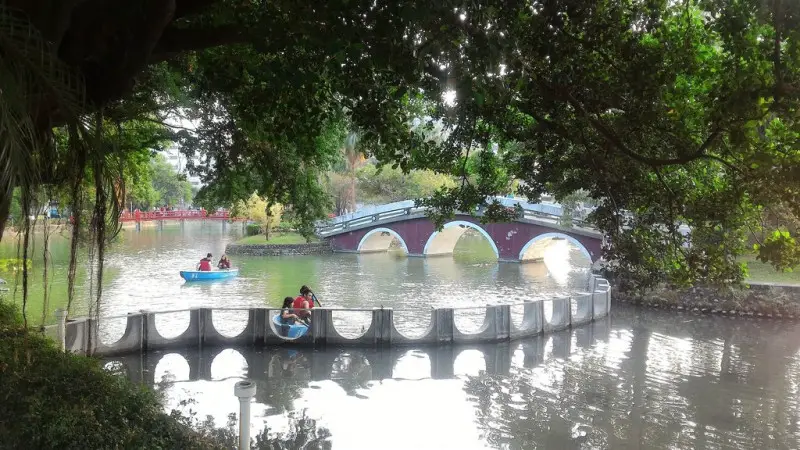 What surprised me was the whole atmosphere, so inviting and pleasing. The environment is terrific for our animal friends as well. When we approached the squirrels, a grandpa handed some peanuts to us to feed the adorable little monsters. The squirrels will take food right from your hand, and they are very gentle. There are a variety of beautiful birds throughout the park. The same kind man that feeds the squirrels, also feeds dozens of pigeons, they really trust him and sit on his legs and arms. He's also doing a great service to society by introducing kids and adults to his seemingly daily routine of feeding, loving, respecting and enjoying these wonderful creatures. In this park, we saw that the old compliments the new. Like a wise old grandma, Taichung Park should be cherished. It is an antique, but it's never boring.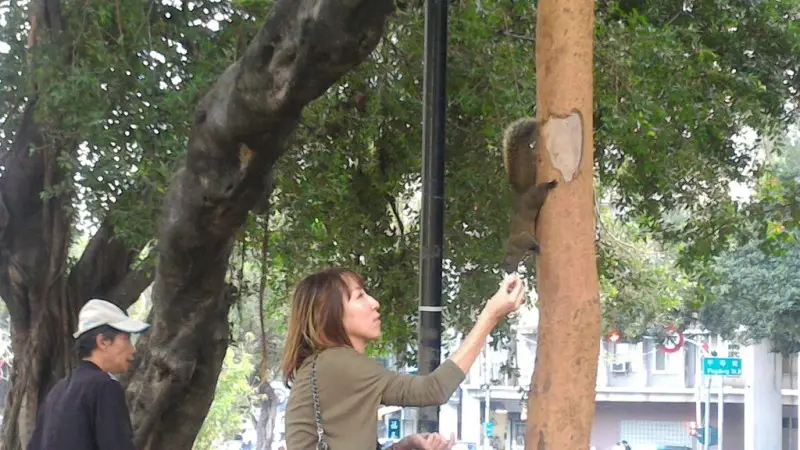 Published in Guan Xi Magazine- Winter 2015 issue