There's no place like home. For many of us, this phrase is a wonderful reality, a positive sentiment for the places we find love, comfort and security. The very word itself is so very reassuring, and nice to hear and say. At the end of a rough day or when things aren't going our way, at least we have that delightful place we can retreat to, for relaxation and recuperation.
This phrase takes on a whole new meaning, when used in the context of the homeless. If you're from a small town or city, encountering homeless people may be quite rare. However, if you're from a large city, you've probably experienced the sad existence of people sleeping rough, and struggling for survival. Living in Taichung, one can go months without coming across a homeless person, or perhaps not noticing. They do exist here. Are homeless people in Taiwan really that rare?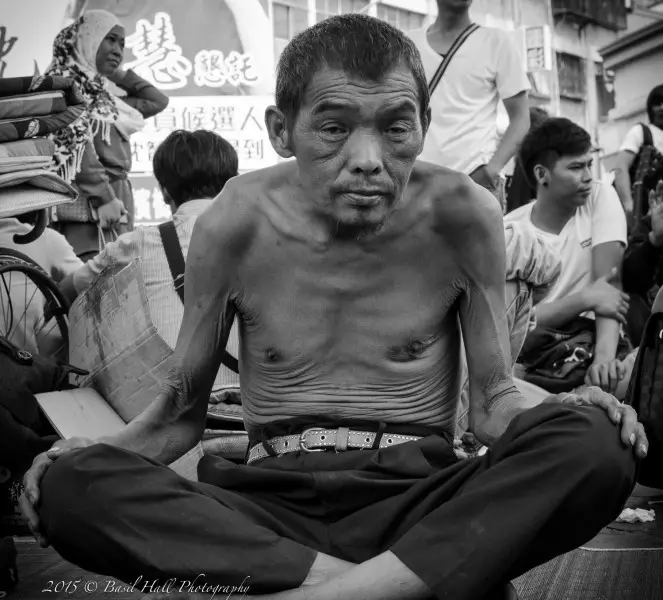 In the summer of 2015, I was contacted by a young lady~Judy Kuo~ who was interested in initiating a homeless feeding project. I was keen to get involved, so we set a date for the autumn. We found the areas with the highest concentration of displaced humans are close to the train station. The network of underground tunnels that serve as passageways to the train station are shelters for many of Taichung's destitute. They offer cover from the elements, significant traffic and potential donors, and are mostly deserted late at night. Simple cardboard boxes become beds, tables, and floors and are folded up and stuck in the iron banisters of stairways when not being used.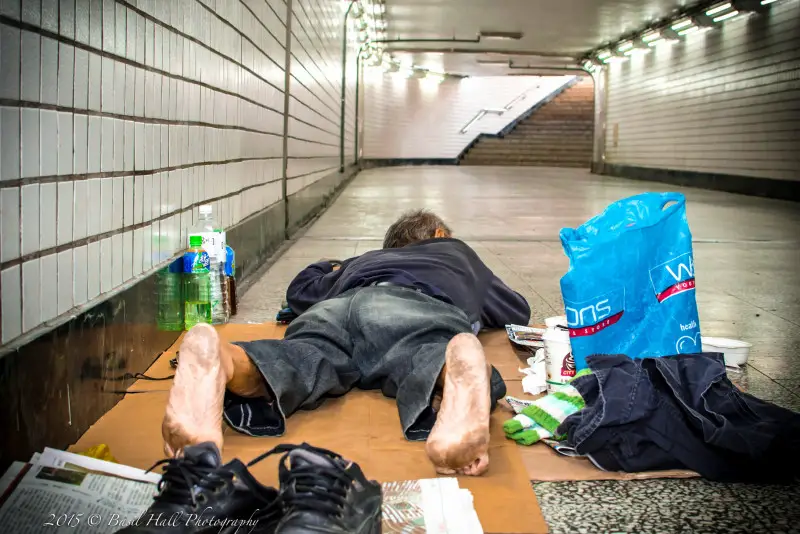 From Judy:
I was already at one month interning at Taichung Home Economic and Commercial High School. So every week when I walked by, I would see homeless people, every single time in the underground path. Each time I walked by, I was overcome with a feeling of regret of not being able to do anything, and it kept growing stronger. So I decided I wanted to do something.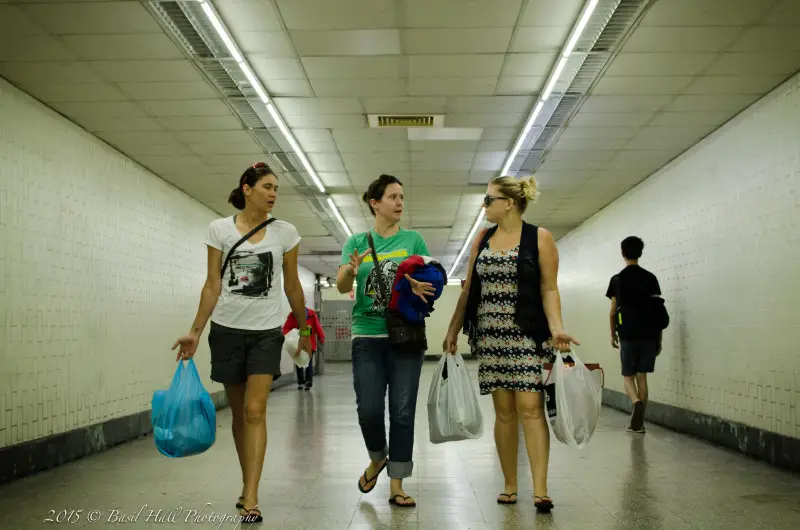 We sat down on the floor with Mr. Yen, to hear part of his grim story:
Mr. Yen has been homeless for over 2 years. He has 4 kids, all of his children have disowned him. He mentioned that he didn't treat them well when they were young, seems to have deep regrets and doesn't blame them.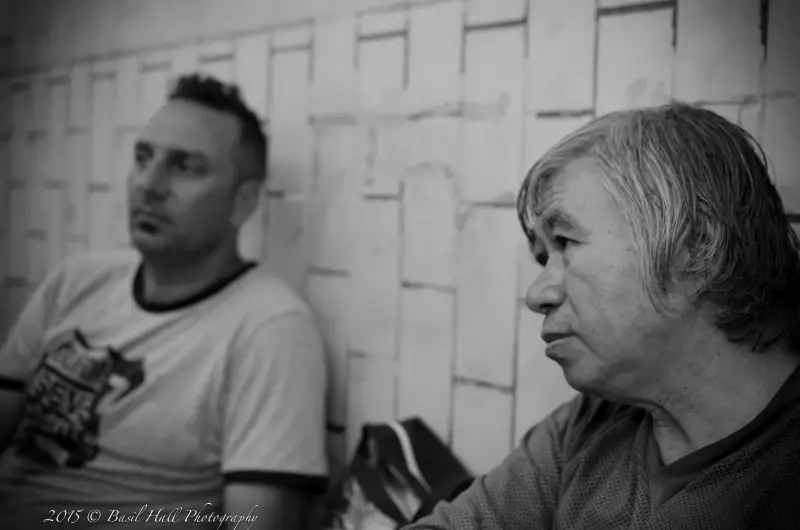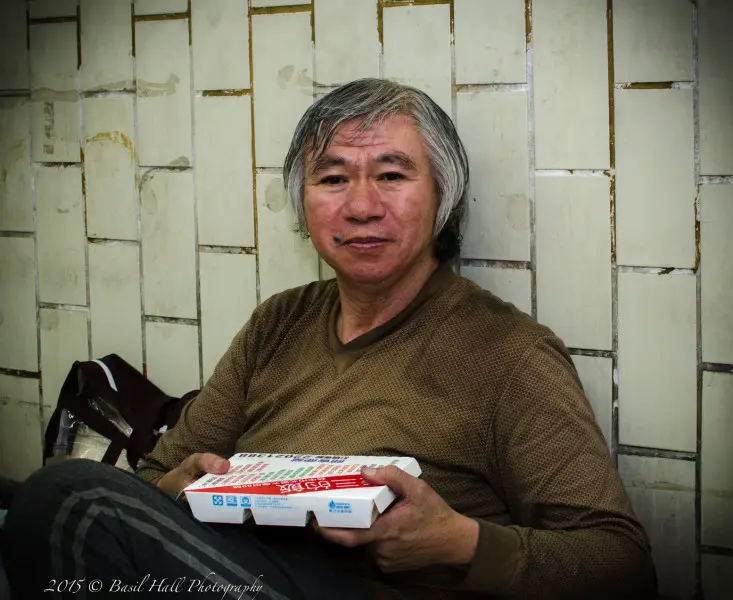 Taiwan lacks shelters, social assistance and programs. Some old-age homes accept homeless people, but only the ones who can take care of themselves.
The government offers little assistance, only medicine. This medicinal assistance seems insufficient in tackling Mr. Yen's severe illnesses. Having suffered from blackfoot disease for far too long and without proper treatment, his condition has deteriorated to gangrene. Double amputation from the knees down is inevitable, according to his doctors. He is putting it off for as long as possible, because the only thing worse than living on the streets is… he is terrified and we are terrified for him.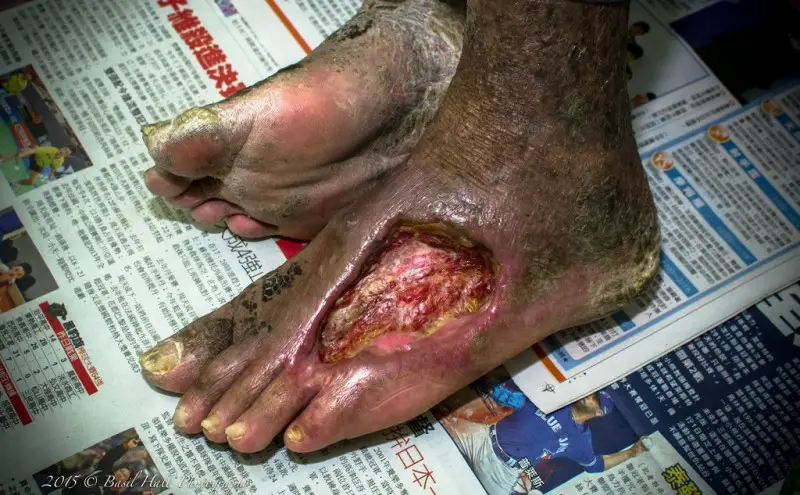 His biggest days for earnings are Sundays. Most donations come from South-East Asians, as they converge on the area to enjoy a much-deserved day off. Top earnings are around 1000NT, which is used to eat for the week. He mentions that the lack of donations from locals, is due in part to the social stigma and also the distrust of locals, which he attributes to a gangster racket, where people are sent into markets to collect donations and turn them over to ruthless men.
In many of our home countries, we have shelters, various programs and social assistance, yet have far high numbers of homeless people. Permanent homes are the only true solution to this complex and solvable dilemma. We have roughly 628 documented homeless people in Taichung. We also have thousands of empty houses, buildings and apartments. It's true that the government must take action. However, the onus is on everyone to make sure that that happens, and also to take up causes on our own to realize powerful changes and movements in society. The next time you're in the area, take a moment and get to know, and be enlightened by, one of our abandoned brothers and sisters.
The graph below displays cities with similar sized populations to Taichung. The numbers below are homeless persons on a given night.
City/Country

Population

In millions

Homeless

Population

Taichung,Taiwan

2.7

628(2012)

Toronto, Canada

2.6

5219(2013)

Chicago, USA

2.7

14 055(2011)

Brisbane, Australia

2.3

2070(2011)

Paris, France

2.2

28000(2014)

Rome, Italy

2.6

7000(2013)
Published in Guan Xi Magazine- Winter 2015 Issue