This is the tale of an encounter with a troubled but weary and gentle "sex worker."
Using more money than she attempted to solicit me for sex, we experienced a humane and calorie-enriched exchange that to me depicts the power of choice, value of people and life, and the limitless depth of the human spirit.
Humans fundamentally seek understanding and support. And sometimes, all someone needs to better his or her life – or simply feel alive – is a snippet of kindness, compassion, dignity and respect.
We are often quick to judge others.
It was April 2010. I had recently moved literally from one side of the world to Chiang Mai, Thailand. I was on my own amidst a world environment pretty much the opposite from everything I'd previously known.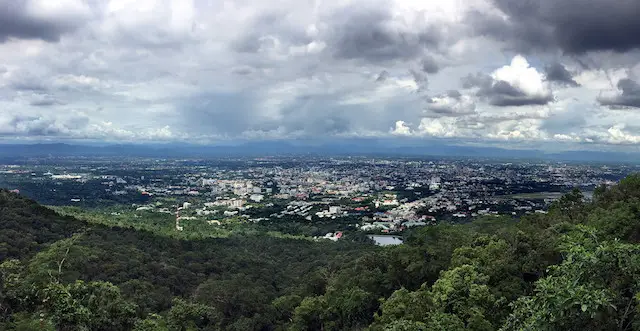 Resting in a mountainous valley, Chiang Mai, also known as "the jewel of the North," is considered Thailand's second capital city. Although rapidly transforming into a mini-Bangkok of sorts — due to regional economic development, as well as the 2011 massive flooding of Bangkok that has resulted in population migration to the North — this urban area still displays charming facets of its over 700-year history.
What is known nowadays as Thailand — named 'Siam' until 1939, and renamed arguably as a result of western Colonial expansionism — has over the centuries experienced many ruling Kingdoms. This said, ancient temples can still be visited. Silky smooth slow-moving and gentle 'Lanna Kingdom' culture can be experienced as a tenet of northern Thai's inherently agricultural lifestyle. Even crumbling bricks comprising a wall edging a watery mote that for centuries served largely as a barrier to invading Burmese military forces remain.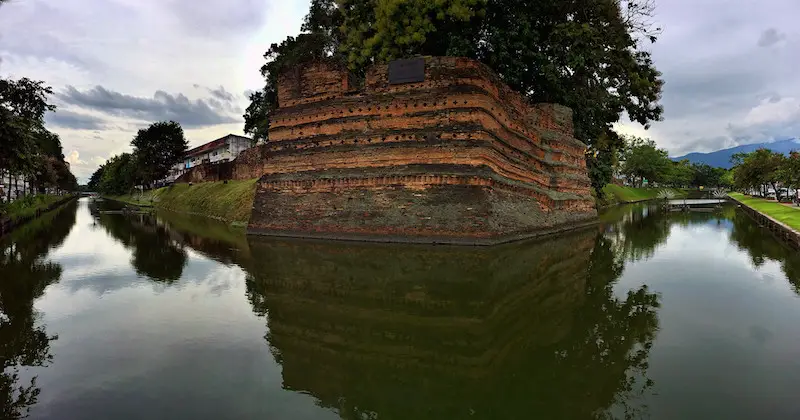 My naïve perceptions upon arrival to this magical small city of Chiang Mai were still strewn with pixie dust. Everything at least appeared idyllically perfect. This is a common trait of newly arrived wanderers from the West. I likewise hadn't much (realistic) clue about the nuanced intricacies of the global East. I surely hadn't much knowledge about the multi-level layers of hierarchical Thai society, let alone my place as a "farang (foreigner)" within this cauldron of cultural complexity.
I was exploring, still tourist-style. … After attending a late-night jungle party and experiencing a rowdy ride back into town via a red taxi-truck packed with 10 drunken people, I exited (with relief) and plopped my feet on to a grubby and dimly lit street amid Chiang Mai's "old city."
My real adventure for this day was just beginning.
Clad in black shorts, she was perched amid the mouth of a narrow alley. Like a vortex for curiosity and lustful desire, this is a common place for sex workers to display their fleshly goods. As though wrapped in bars, a black and white-striped shirt also covered her ghostly white skin.
Her soul peered at me through dark sunken eyes as I sauntered past. I'd experienced an intuitive connection, as though we knew each other, somehow. Beyond weary of surface-deep human connections for that day, I brushed off this energetic link with the woman and continued walking toward a 7-Eleven store. As I approached the storefront, a younger, pasty-skinned, drunken fellow stumbled through the doorway, past me, and on his way down the street toward the sex worker woman.
After purchasing cell phone credit, I meandered back down the street toward my motorbike that I had earlier in the evening chained to a rusty sewer grate. Like a helpless turtle flipped on to its shell, the drunken chap who had just come from the store was haphazardly lying atop a bush, his glowing white-skinned belly exposed.
The street woman was half on top of him. New to some aspects of what happens in this part of the world, I'd never before taken in a scene like this. My initial reaction was that it appeared as though a vampire was latching on to its prey.
The young man appeared bewildered – tempted by her assertive attention but not wise enough to handle the situation properly. I almost pitied the fella. Regardless, I somewhat coldly stepped over and past them and walked a couple of blocks before mounting my motorbike and turning the key.
As though the street woman had identified me as a more succulent opportunity, she suddenly appeared by my side. Slightly perplexed by how quickly she had caught up to me, I briefly wondered what had happened with the defenseless other man.
Getting a bit too close, somewhat ironically violating my physical comfort zone, she offered her carnal services for the price tag of merely a few US dollars. I declined, repeatedly. Whimpering slightly, her desperation increased. She spoke very little English. The exchange continued. I stood my ground, however —informing her that I "won't do that" to her.
Seemingly somewhat defeated, she gracefully lowered herself to the sidewalk and hovered her upper body slightly above my feet. I arched downward, lowering my head to her eye-level while communicating. I mean: this was already a fairly deranged situation; I surely didn't need to, and shouldn't have, facilitated its worsening by allowing her to grovel like this.
I question why some people in this world are subject to a certain lot in life while others reap the fruits of another. This is merely because by chance one person was born into one situation (i.e. world location or economic social class) from another? The engines of this capitalist global market system created social division, in my opinion, are continually fueling a blanket form of injustice that in various ways affects us all. What can we do? Perhaps social unity is key.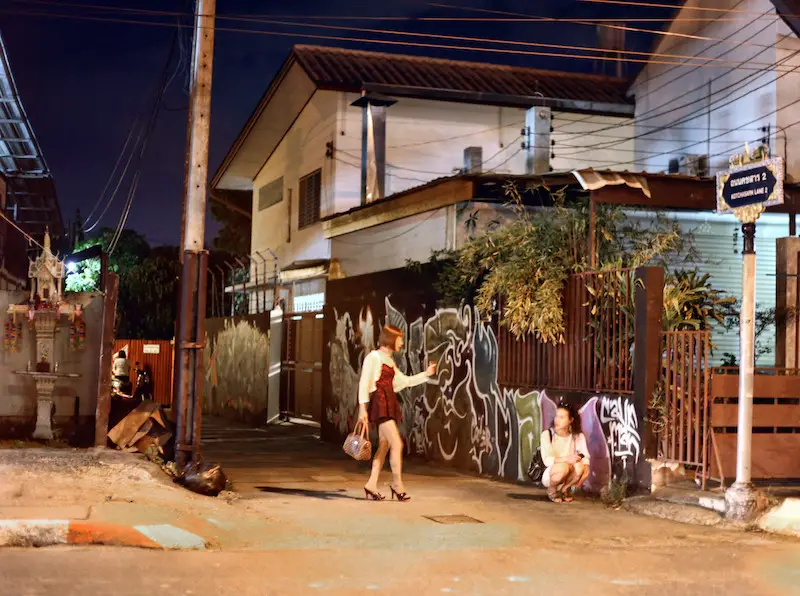 Speaking with Ghi, she accepted that I wasn't going to purchase her services. She stood and shifted her body inward towards me. Quite physically close to her now, and feeling okay about this, she looked emaciated and sick. Her body was stick-thin, with boney sunken cheeks and a face that was slathered with white and seemingly poor quality makeup. Looking through and beyond this surface stuff, she was actually quite pretty. I could see her youthful essence, perhaps from another era in her life. She was just, tired and weathered.
"No money," she admitted slowly and gently; her voice tone was low, raspy and desperate. "No money...no farang (foreigner). No hotel...no money."
Now we were having a real conversation. She motioned her left arm outward and towards the street, channeling my attention to the waning number of carefree bar-goers making their way to guesthouses and hotels.
I was gaining an understanding of her real situation.
I learned from "Ghi" that she is primarily homeless. She had no money and worked that street three times per week. She told me that she is 26 years old. I didn't quite believe her age; it didn't matter. I did suspect though that she likely wasn't going to sleep that night, at least not anywhere comfortable and health nourishing.
I realized that with the eastern skyline beginning to glow and these streets now nearly empty she probably wouldn't be able to secure a suitor and a place to stay before the Thai sun's wrath was in full-force. Perhaps I was her last hope.
'Thai people,' comprised of various regional ethnicities (e.g. China, Laos, Cambodia, Burma/Myanmar, etc.), generally display an externally reserved demeanor. Beyond a smile, Thais likewise display their deeper emotions via the upper half of their face, and then again quickly tuck this inner world window away.
Carrying a worried look, which for a sustained amount of time spread throughout her entire face, Ghi again peered down the street. She reflexively and quickly rubbed her stomach in a way that appeared as a nervous twitch. I read this as her motivation, really, was not sex; it was rather really about needing a place to sleep and some pocket money. For her, it had clearly been a rough night.
I didn't feel sorry for her because this would be judging. However, for possibly the first time in my life, I was face-to-face with true misery.
"What can I do?" I asked myself.
I dismounted my motorbike, instructed her to meet me back at the 7-Eleven store, and went on my way.
***

I purchase and place the microwaved rice and spicy chicken atop stacked cardboard boxes located outside the 7-Eleven.
Ghi thoughtfully makes certain the portions are equally split between us before she begins woofing down her steaming meal. I'm not thinking, just eating. As though pals who have known each other for years, we are partaking together, mostly silently. The meal, along with this experience, tastes surprisingly good – as though it's exactly what is supposed to happen.
Ghi's attention occasionally darts toward the street. I am expecting her to walk away at any moment. She instead gulps down some bottled water and attempts to tell me that I'm "a good man." She points at me and offers a thumbs-up gesture. Ghi squeaks out a smile, temporarily revealing her inner glow. She's happy; I'm happy. We're happy. Everything feels right. For this short while, we are present — nothing else matters.
"Dessert," I think to myself. "We need dessert."
I once again enter the store, collect a cup, a bottle of chocolate milk and a bag of M&Ms. Having placed them on to the counter, I ask the store clerk how to say "dessert" in the Thai language. Instead of receiving a language lesson, I experience negativity via a derogatory comment about my "new friend."
I'm realizing that Ghi and I have likely put on quite a display outside the store. Who knows what others may think when a foreigner is hanging out (ahem, spending quality time) with someone whom others may deem as societal trash. Generally speaking, there is a lot of judgment inside of Thai society about "sex workers" and "bar girls," and of those who partake in these services.
There is not a cell in my body that cares what anyone thinks about my interaction with Ghi. Their opinion is none of my business.
Contrary to popular opinion — and perhaps fantasy — outside of Thailand's borders (and cultural experience), this country absolutely is not merely a no boundaries sex-haven. I can attest after having lived in Thailand for seven years that, while this country does have a fairly easy-going culture, it is the opposite of a place strewn with easy women (or other genders) and loose morals!
While the 'sex industry' in Thailand is readily available and surely serves both social and economic purposes amidst an extremely stratified society — a societal response to larger global economic forces — prostitution, one of the oldest human professions, constitutes a minuscule facet of this dynamic country. Perhaps also contrary to popular belief, this segment of Thai society actually caters less to international tourists than it does to the domestic population, which is another story.
***
Back to this adventure, I leave the 7-Eleven store displaying a fairly obvious yet tempered tone of disdain towards the cashier.
Ghi accepts into the palm of her small and frail hand two doses of candy; she slowly swigs her chocolate milk.
The sun has risen. And, like flipping on a light switch, Ghi is suddenly warped back to her stressful reality. Once again, it's as though she's here with me, yet somewhere else.
"No farang," she murmurs.
I put my hands together and make a sleeping gesture. 

"No sleep," she says with a determined gaze, as though trying to tell me something.
I pull a 100 Thai baht bill from my pocket and hand it to her. She snatches it, opens her bluish-colored zippered purse (which is empty) and stuffs the money into the bag. Ghi looks up at me and rubs her stomach; this is food money. I pull out three 20 baht bills and attempt to give them to her. She refuses, gently pushing my hand away before lowering her gaze. She looks back up at me.
To relieve some awkwardness, I initiate an arm-flexing contest (because I can see how strong of a person she really is). After a few funny teeth-clenching postures, she wins. We laugh. It's time for me to move on, and we walk back to my motorbike.
Ghi is so petite and emaciated that as I give her a hug I feel like I could twice wrap my arms around her. She seemingly doesn't know what I'm attempting to do at first. After three waves of hugs from me, she finally holds me tighter — as though this is her first experience with true human affection.
I mount my scooter, turn the key, and witness Ghi reassessing her situation. I offer another hug. This time, she switches into service mode and attempts to massage my lower back. I stop her by grabbing onto her hands, before holding her for a bit longer.
Like ripping a bandage away from a wound in order to give it some air, we say 'good-bye.' And I drive away from her into the early morning sunrise for a 40-minute ride to my country home.
***
Scaling the wooden stairs leading to my air-conditioned bedroom, I waver from exhaustion. It's been a long night.
I, while relishing a hot shower, begin to reflect upon my experience. I ponder that I am here on Planet Earth as much as anyone else. Underneath my skin color (a mere genetic adaptation to the sun), my skeleton is of the same color and basically the same structure as everyone else. We are all indigenous to this planet. Why then is my situation so much different from another? Why do we sometimes treat each other poorly?
We are here to learn from and support one another. Today is today. Tomorrow, if it comes, will be tomorrow, which will become another 'today.' If I have the opportunity (and resources, whatever they may be) to thoroughly assist someone, in this moment, then why would I not do this? Why then did I drive away from Ghi like that? I could have given more. A bit overwhelmed, maybe it was just too much for me to handle at that time. I really don't know.
All I know is that having finished my shower and now readied for sleep, I feel regret — and in ways still do — upon realizing that this house contains two additional beds, supporting nothing but air … and certainly not a troubled and weary yet gentle woman in Chiang Mai, Thailand.
Published in Guan Xi Magazine- Fall 2017 issue